---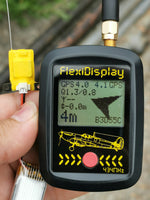 WARNING:
This is not a ready-to-ship product, the shipping time is usually 1-2 weeks from the order.


Please join us on Facebook for the updates.

The BMK GPS system consists of two parts.
Alti-Loc GPS Beacon: Low-power ultra-light radio beacon with GPS and altimeter.


FlexiDisplay Hand Unit: An ultimate hand unit with integrated GPS, Long Range 434Mhz Tx+Rx, Altimeter, Compass, Accelerometer, Gyroscope, Wifi, Bluetooth and others for future use.  FlexiDisplay software is updateable via a web browser thanks to the onboard WiFi access point. 
Product Manual (Latest update: 12/07/2023)
 The APP: 
FlexiDisplay device has an onboard Bluetooth 4.0 module and it shares the beacon data with nearby mobile devices and tablets. You can download the compatible BMK Model Locator app from the links below or search for "BMK Locator".

Apple Store: https://apps.apple.com/app/id1660730356
Google Store: https://play.google.com/store/apps/details?id=com.bmk.modellocator

System Features
FlexiDisplay Hand unit ON time: +8 hours (with the latest firmware)
Alti-Loc Beacon consumption: 30mA@flight, ~7mA@stationary
Update rate: 0.5s@climbing 1s@flight 8s@stationary
The range: >20km in the air(UK conditions)
Flight Memory(1MB): records 10 flights in CSV and KML format.
RCDT: Long Range, BMK B1 and B2 compatible.
RSSI Indicator: useful under low accuracy or No-GPS conditions.
Last Known Location: FD records and shows the last known location of the beacon.
Low battery mode: The beacon disables the GPS unit for lower battery consumption and transmits the last locked GPS point if the battery is under 3.3V. You can still receive this location info and signal strength value until 1.8v.
*GPS-OFF blinks on display in his mode.
GPS LOW indicator: It appears if the GPS accuracy is low and you will know the search radius may be >10m.
Altimeter: Altitude, Climb and Sink rates on your display. 
QR code: Just scan with your phone and Google Maps will show the beacon location.
Flight Summary: Max altitude and other helpful information about your last flights.
The beacon selection: It shows all active receivers on your display. You can choose your beacons or friends to help them. No binding is required so that multiple FDs can follow the telemetry data of a beacon.